Sheet Metal Workers Apprenticeship Application Process
---
BASIC REQUIREMENTS:
RESIDENCY—–Applicants must reside in Bureau, LaSalle, Putnam, Marshall, or Stark County of Illinois and be legally


eligible to work in the United States.
AGE—–Minimum age of applicants shall be 17 years old.
EDUCATION—–Minimum level of education is  High School diploma or Certificate of Equivalency.  Official transcripts

must be provided. Current High School Seniors are allowed to apply pending graduation, however, all requirements must be met prior to the effective date of the new Applicant List.
PHYSICAL FITNESS—–Applicants should be physically and mentally capable to perform the work of the trade and may be subject to a


medical examination prior to employment.  All applicants to our apprenticeship program are required, as a prerequisite




to employment, to abide by and participate in our substance abuse policy.
DRIVER'S LICENSE—–Applicants must possess a valid driver's license which proves current address. A photocopy

of the driver's license will be taken.
APPLICATION PROCESS—–The process to enter our program involves a completed application with all required documentation;


mandatory written testing; and a mandatory oral interview.  All portions of this process are graded.  We are required to create an applicant list by ranking all applicants by their total score, starting with the applicant with the highest score and proceeding in descending order. Hiring is done with this list, starting with the applicant with the highest score.

    Sheet Metal Workers Local #1 (North) Joint Apprenticeship Committee will have applications available between 9:00a.m. and 11:00a.m. Monday, March 27 through Friday, March 31, 2017 and Monday, April 3 through Friday, April 7, 2017, at the Illinois Valley Contractors Association, 1120 First Street, LaSalle, Illinois. The applications must be completed, returned in their entirety, and will not be accepted after 11:00a.m. on Friday, April 7, 2017. The application process must be completed in person.

Minorities and Females are encouraged to apply. Please note that all previous applicants must re-apply at this time. Mandatory test will be on Saturday, April 22, 2017 and a photo ID will be required. Mandatory interviews will be held the week of May 8, 2017. A pre-employment substance abuse test with negative results is mandatory.

   The recruitment, selection, employment and training of apprentices during their apprenticeship, shall be without discrimination because of race, color, religion, national origin, or sex. Females and other minorities are encouraged to apply.
---
Interest card: If you wish to be notified by email when the next application period will be please download the pdf file here.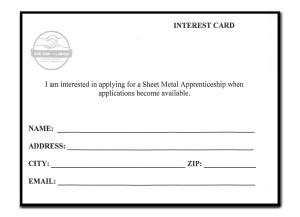 Apprenticeship Interest Card .pdf
Email card to: smw1bob@gmail.com
---
More information on our Apprentice Program is available from:
Sheet Metal Local #1 North                                        
Larry Louis, Coordinator
341 Bellevue Avenue                               
Ottawa, Illinois 61350
815-433-1047
OR
Illinois Valley Contractors Association
Daniel F. Aussem Executive Director
1120 First Street
LaSalle, Illinois 61301
815-223-0561