APPLICATION BASIC REQUIREMENTS
         Applications shall be available to anyone who is interested. Applications will be accepted at times and places designated by the JATC. When designated, applications will be accepted for a minimum of two (2) weeks.
Age: Applicants shall be at least 17 years of age.
Education: A high school diploma or GED equivalency is required. Applicant must provide an official transcript(s) for high school and may provide post high school education and training. All GED records must be submitted if applicable.
Physical and Drug Screening: Applicants shall be physically and mentally capable of performing the essential functions of the apprenticeship program without posing a direct threat to the health and safety of the individual or others. Qualified applicants may be subject to a physical examination prior to being employed. All applicants are required, as a pre-requisite to employment to abide by and participate in our substance abuse policy.
Residency: All applicants must currently reside in Peoria, Tazewell, Woodford, Fulton, or McLean County of Illinois.
Driver's License: Applicants must possess a valid driver's license which indicates current address. Eligibility for insurance, MVR report may be required.
Legally Able to Accept Employment: All applicants must be legally able to accept employment and must provide proof of that legal ability prior to being employed.
MINORITIES & FEMALE APPLICANTS
ARE ENCOURAGED TO APPLY
AN EQUAL OPPORTUNITY EMPLOYER
Note to previous Applicants: If original application is over two years old, a new application must be made.
Dates and Times: The application period has closed. Please check back for more application dates.
Place: 840 W. Birchwood Street
Morton, IL 61550
(309)682-3141
Interest card: If you wish to be notified by mail when the next application period will be please call to request to fill out an interest card or download the pdf file here.
  Apprenticeship Interest Card .pdf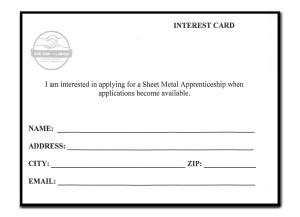 Email card to: smw1jatc@gmail.com       Attn: Vicki
NOTICE OF NONDISCRIMINATORY POLICY OF SHEET METAL WORKER'S LOCAL 1 JOINT APPRENTICESHIP TRAINING COMMITTEE:
The Sheet Metal Worker's Local 1 Joint Apprenticeship Training Committee ('JATC") admits apprentices of any race, color, national or ethnic origin, age or sex to all the rights, privileges, programs and activities generally accorded or made available to apprentices at the JATC. The JATC does not discriminate on the basis of race, color, national or ethnic origin, age, sex or disability in administration of its educational policies, admissions policies, scholarship and loan programs, or other JATC administered programs.