ABOUT US
---
"Our Team"
---
President: Dave Gamber Jr.
Vice-President: Jeff "Dinger" Steidinger
Business Manager/ Financial Secretary-Treasurer: Bill "Moosie" Comstock
Business Representative/ Recording Secretary: Bob Miller
Organizer: Paul Eichhorn
Executive Board: Steve Overholt, Kenny Steiger, Matt Wroblewski
Union Trustee's: Jim Almasy, Joe Genusa, Chad Kellem
Office Manager: Bev Niswonger
---
"THE ORIGIN OF Sheet Metal Workers International Association"
---
Local Union #1 of the Sheet Metal Workers' International Association lies in the heart of Illinois. We serve 10 counties with a membership of roughly 700 + building trades' journeymen, residential journeymen, apprentices, industrial, and retired members.
What does a Sheet Metal Worker do? The metal roof on Dunlap School, the ductwork in the student recreation center at Bradley, a new energy efficient home heating and cooling system, the stainless steel countertop at your local restaurant and parts for the cab of a CAT bulldozer, all of these projects were completed by Sheet Metal Workers.
Indoors or outside, hot and humid, or cold and windy, our men and women get the job done right and on time. You might see Local 1 people setting exhaust fans at Mitsubishi with a helicopter, or putting up a sign at Grand Prairie for a new store. Whatever the job is we will be doing it safely, on-time, and right the first time.
The main office for Local #1 is in Morton, IL, with one satellite office in Ottawa, IL. There are over 50 contractors signed to two separate collective bargaining agreements. Local #1 employs 4 full-time people, a Business Manager-Financial Secretary/Treasurer, a Business Representative-Recording Secretary, an Organizer and an Office Manager.
In 1887, Robert Kellerstrass, Recording Secretary of the Tin and Cornice Makers' Association of Peoria, Illinois, began communicating with the local organizations promoting the idea of unity and a national organization. Peoria's own Kellerstrass was elected General Treasurer at the unions' first convention in 1888. Because of a shifting of local numbers years later, there has always been some question about Peoria's real right to the #1. In fact, out of the seven original locals; Kellerstrass drew #1 out of a hat in 1924 when the name of the union was changed to Sheet Metal Workers International Association. In January of 2008 The Sheet Metal Workers International Association merged with The United Transportation Union to become The International Association of Sheet Metal, Air, Rail and Transportation Workers or SMART. Many items are still on display at Local #1's office from those very early days of our union, a Tinner's union banner, a journal from 1888, member badges, and original charters from 1888 and 1924.
---
VIDEOS
---
A HISTORY OF THE SHEET METAL WORKERS INTERNATIONAL ASSOCIATION: (30 minutes)

A CAREER AS A SHEET METAL WORKER: (11 minutes)

---
Early Badges (Late 1800's, Early 1900's)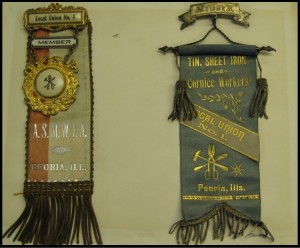 ---
1888 Journal of Meeting Minutes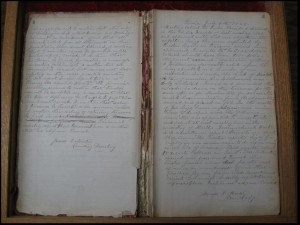 ---
 1887 Banner from original Peoria Tinner's Union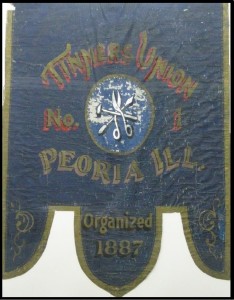 ---
1888 Charter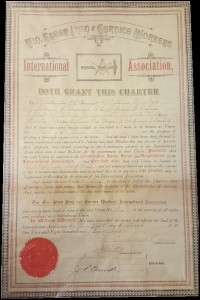 ---
 1924 Charter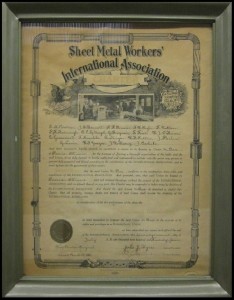 ---
Copper Man and Aluminum Robot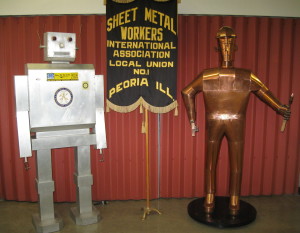 ---