---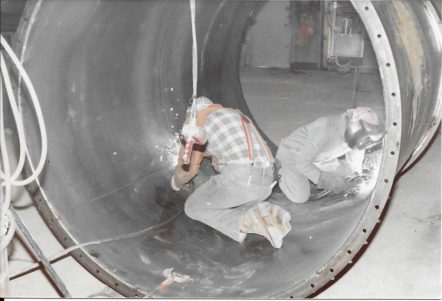 ---
What is a Sheet Metal Worker? ….Primarily, sheet metal workers install and service all types of heating, ventilation and air-conditioning (HVAC) systems as well as fabricate the majority of their components including duct-work. In addition to HVAC work, sheet metal workers fabricate and install coping and flashing, lockers and bathroom partitions, kitchen equipment, metal roofs, siding, rain gutters, downspouts, skylights, customized precision equipment, and many other products made from metal sheets. The process of sheet metal work involves shearing, forming, fabricating, welding, soldering and assembling a host of items made from galvanized iron, steel, copper, nickel alloy, stainless steel, aluminum and sometimes plastic. The work takes place on industrial, commercial, residential and institutional construction sites, industrial plants, and in the electrical power systems sector of the construction industry. On a residential level, when your furnace and air conditioning system breaks down, you can call and rely on us to correctly repair your old system or install a new one. A Sheet Metal Worker performs work in all temperatures, most weather conditions, in all space conditions for example: inside  or outside, in confined spaces, underneath houses in crawl spaces, in attics, in high spaces like off of ladders, scaffolding, lifts or on a rooftop, in dirty, smelly environments, in clean rooms, etc. In short, a Sheet Metal Worker goes WHEREVER the work is at!

Click on the link below to see our NEWEST video on facebook!!!
VIDEO: SMART LOCAL 1
Click on the link below to see our video on facebook!!!                                     
VIDEO:  SHEET METAL WORKERS LOCAL 1
---
⊗ LOCAL 1 NORTH

---
BUREAU

LA SALLE

MARSHALL

PUTNAM


STARK
---
⊗ LOCAL 1 SOUTH

---
FULTON

MCLEAN

PEORIA

TAZEWELL

WOODFORD
---
ATTENTION MEMBERS: PLEASE TAKE A MINUTE TODAY TO UPDATE YOUR CONTACT INFORMATION WITH US! WE HAVE BEEN ATTEMPTING TO REACH A PORTION OF OUR MEMBERSHIP WHO HAVE OUTDATED CONTACT INFORMATION! ….THANK YOU!
---
MEETINGS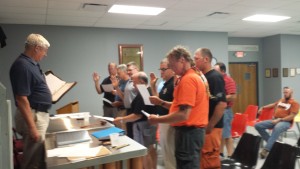 Officers swearing in.
---
Union Meeting Dates:

Friday, January 19, 2018 Awards Party! 7pm

February 20, 2018

March 20, 2018

April 17, 2018


May 15, 2018

June 19, 2018

July Meeting Cancelled?

August 21, 2018

September 18, 2018

October 16, 2018

November 20, 2018

December 18, 2018
---
Upcoming Events:

September 03, 2018 – Labor Day Parades (Peoria, Bloomington)
Hall/JATC Holiday Closings:
Jan. 01, 2018
May 28, 2018
July 04, 2018
Sept. 03, 2018
Nov. 22 & 23, 2018
Dec. 25, 2018
CURRENT STRIKE LIST LETTER: V. NEXT LETTER: W
---
Check out our facebook page here:

META-TAGS:  sheet metal workers local 1, sheet metal, sheet metal workers, smw local 1, SMART, smw1.com, HVAC, Peoria IL HVAC, Pekin IL HVAC, Morton IL HVAC, Peru IL HVAC, Bloomington IL HVAC, Normal IL HVAC, Ottawa IL HVAC, La Salle IL HVAC, shearing, forming, fabricating, welding, soldering, breaking, rolling, heating, cooling, furnace, a/c, air conditioning, ventilation, service, repair, replacement, install,